A degree in business prepares students for employment in a variety of fields through the study of many different aspects of business management. Students in a business degree program study topics such as accounting, marketing, public relations and business administration. Business degrees can also be earned at different educational levels depending upon a student's chosen career and professional aspirations. Many students who earn a business degree choose to specialize in a concentration that meets the demands of the business sector in which they hope to find employment. Business degrees are also ideal for individuals who would like to become entrepreneurs, as the degree incorporates all aspects of running a business. Because many schools offer business degree programs through the advanced levels in both online and on-campus formats, this degree is available to students from all types of backgrounds. Depending upon the educational level that a student obtains, career opportunities abound for graduates with business degrees. Some popular degree options at both undergraduate and graduate levels are described below.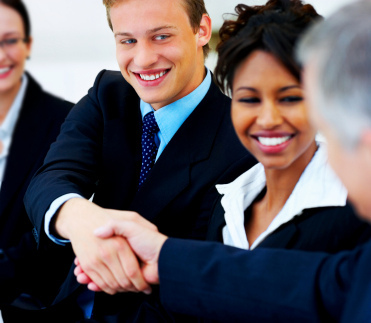 Associate of Applied Science in Business Management and Accounting
This degree can be completed in slightly less than two years for students going to school full-time. This degree prepares students for positions in the workforce such as administrative assistant, accounting clerk and office clerk. Graduates with this degree can also be eligible for office management positions in a variety of fields.
Bachelor of Science in Business Administration and Human Resources
This type of degree prepares students for managerial positions in both domestic and international companies. The emphasis on human resources teaches students about the business methods used for sourcing, recruiting and hiring employees. Techniques for training and development are also taught in the coursework for this degree, leaving graduates prepared to take on positions in the human resources departments of businesses. For graduates with this degree who are interested in teaching, advanced coursework in education can also enable them to teach business courses at the high school level.
Master of Business Administration
A master's degree in business administration is in high demand among corporate recruiters. This advanced degree prepares students to take on leadership positions in corporations and global businesses through coursework in finance, global communication and statistics. Many students who pursue an M.B.A. also hold undergraduate degrees in many different fields. Because of the versatility of this degree, many employers encourage their employees to seek this degree in order to advance their careers. Entrepreneurial students will be interested to know that many M.B.A. programs also offer an emphasis in entrepreneurship that can provide them with additional credentials to advance their reputations in the business community.
Graduates with business degrees are guaranteed to be eligible for many different types of careers. Specialized coursework designed to meet the degree plan offers students the opportunity to explore and learn about the many aspects of business management that ensure that a business runs efficiently and is profitable. For students interested in a degree that will enable them to advance in their chosen careers, a business degree is an ideal option that is flexible enough to meet a variety of career plans. In addition, there are many different degree programs designed to meet the needs of both full- and part-time students.